| | | |
| --- | --- | --- |
| | About Us | |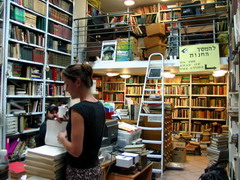 ---
The Book Gallery is the largest second-hand bookstore in Israel, located in downtown Jerusalem at the heart of the commercial district off King George Street.
The store spans two floors, divided into four large browsing sections, and also includes a separate section for antiquarians.

There are two main floors,
going underneath Schatz street
---
We offer books in many
subjects and languages.

Our store specializes in second-hand and antique books in all subjects and numerous languages. Most of the books we offer are in Hebrew, English and German, but we also hold an extensive array of books in various other languages, from Romanian to Japanese.
---
We offer a staggering array of books on Jewish matters, Judaica, Prose and Poetry, Zionism, Art, Philosophy, History, and many others, carefully sorted and organized on shelves for browsing.

Books are meticulously arranged into
categories, for easy browsing
---
Relax on a sofa and have a read,
listening to classical music or jazz

The Book Gallery takes pride in its enchanting atmosphere, with relaxing music and with sofas scattered around the three levels for the comfort of our customers.
---
The Gallery's owners have a vision: to turn the store into a new cultural space in Jerusalem. This task is already underway, as the store has so far hosted many musical and poetry events, and plans to hold many more in the near future.


We've hosted many poetry and music
nights, and plan to host many more
---
A computer at our store allows
customers to search the website while
visiting us too!

Our catalogue is constantly updated, and already contains over 40,000 titles! These books, listed in our website which you are now visiting, are only a small percentage of the books we offer, and represent mostly the rarer variety of books we sell, including the rarest prints from our Antiques Department. At any given time, we have several employees constantly adding more and more books to this growing catalogue.

---
The warm and dry mountain-desert climate of Jerusalem helps store and protect the books in good condition at our store and our external warehouses over a long period of time.

Books keep well in this climate,
even underground.
---
We have so many books, we sell our
surplus for $1-2 at a special section
of the store!

In case you can not find the book you were looking for, or if that book is not necessarily antique or rare, that certainly doesn't mean that we do not have it! There are over 500,000 books at the Book Gallery, many more than we have listed in our catalogue! We have so many, that we sell our surplus at an adjacent section of the store for as little as $1!

---
Contact us through this website, or by phone, fax or e-mail, to inquire about the book. We have personnel ready to assist you, and will do our best to locate the book in our inventory.

Thanks for shopping at
the Book Gallery!
---